Manage Notifications through Your User Preferences
Every Moodle user has the ability to control how they receive email notifications from Moodle. To customize these settings:
A. Click your name or user icon (at top right of your course page) and from the User menu drop-down, select Preferences. Your Preferences page will open.
B. On the Preferences page, under User account, click Forum preferences. The Forum preferences page will open.
C. On the Forum preferences page, from the Email digest type drop-down menu, select how Moodle will send notifications when you are following discussions. You have the following options:
No digest (single email per forum post) (default)
Complete (daily email with full posts)
Subjects (daily email with subjects only)
Note: By choosing Complete or Subjects you will receive one email per day with notifications from Moodle. If you choose No digest, you will receive an email every time a classmate or instructor posts to discussions you are following.
D. From the Forum auto-subscribe drop-down menu, select how you will follow discussion forums:
No: don't automatically subscribe me to forum discussions (default) Recommended.
Yes: When I post, subscribe me to that forum Not recommended; you will receive email notifications from any forum you contribute to.
E. At the bottom of the page, click Save changes to finish making changes.
Manage Subscriptions to Particular Forums and Discussions
If your instructor has set the subscription mode for a Forum to be optional, you can choose whether or not to receive email notifications. You can also choose to subscribe to individual topics in a forum discussion, as opposed to receiving emails for all topics in that forum. This can be especially useful in forums with multiple discussion topics where you only need to follow particular topics.
To change your subscription mode for an entire forum:
First, open the forum, and then in the Administration block
Click Subscribe to this forum to receive emails.
Click Unsubscribe from this forum if you do not want to receive emails.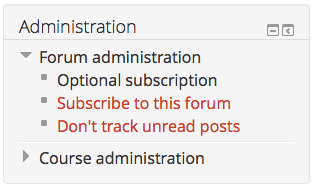 To change your subscription mode for a discussion topic within a forum:
Or, open the forum and then open a particular Discussion topic. In the Administration block, at the left side, you can change subscription settings for the entire forum, or the discussion topic you are viewing.
Click Subscribe to this discussion to receive email
Click Unsubscribe from this discussion if you do not want to receive emails.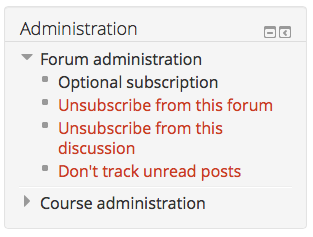 To change your subscription mode from an email notification you received:
At the bottom of an email message sent from Moodle, click Unsubscribe from this forum (or Unsubscribe from all forums). You will be sent to Moodle (you may need to log in) where you will be asked to confirm your choice. Click Continue to unsubscribe and stop receiving email notifications.
Note: If you do not see a link to unsubscribe, your instructor has set subscription for the forum to Forced subscription, and you cannot unsubscribe.