You can upload files and delete your own files but as a collaborator you don't have access to delete files you didn't upload.
When uploading videos, still images or audio, you can drag them from a folder or select the upload icon. You don't need to pre-compress your files. You can upload full-res and pro-res files. This uses an accelerated file uploader which allows for speeds up to 5 times faster than most file-sharing services.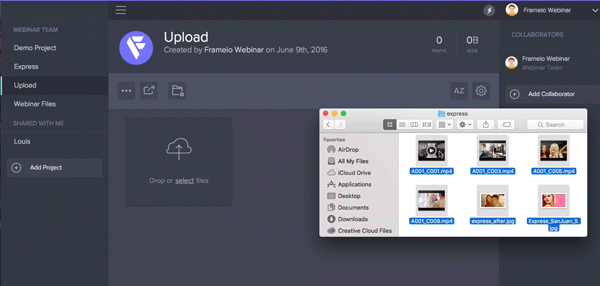 Once the upload is complete, hover scrubs are instantly created for videos and thumbnails for your still images. Other types of files are still accessible but do not receive a thumbnail. Frame.io encodes the files on our servers into HTML5 videos so they can play seamlessly on the web while still storing the original file available for download.
The Frame.io interface is built for speed. You can drag and drop your files like a desktop environment so you can organize your files in the order you need them in. When you move files around, this creates a Custom sort.