A. Go to VCFA Internal site and click on the Information Technology button
B. On the upper left hand side of the IT page you will see a link titled "Check Spam Quarantine". Click this link.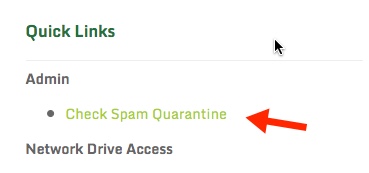 C. You will redirected to a new page. Enter your email address (1) and click the "Request" button (2).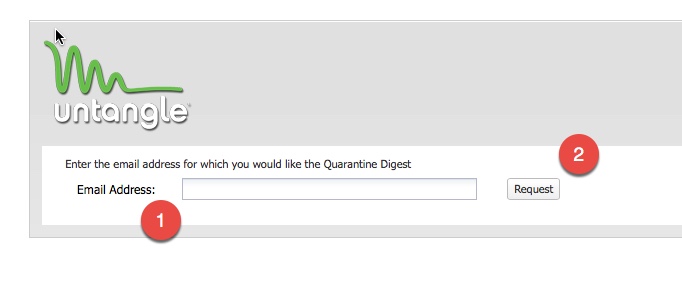 D. The spam filter will send you an email. Open the email and click on "Click here to access your spam quarantine."

E. The Untangle Quarantine web page will open in your browser.
To release an email that has been trapped in the spam filter click on the box next to the email so it has a check in it (1).
You have the option of releasing the email (2) or releasing the email and adding the sender to your personal safe sender list (3).
If you want to delete the email click on the "Delete" button (4).
If you are looking for a particular email you can enter the person's email address in the filter (5) at the bottom.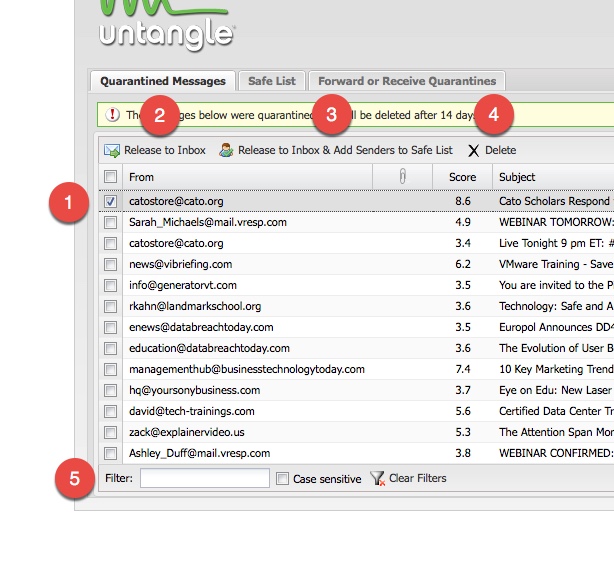 F. To add or review who is on your personal safe sender list click on the "Safe List" tab. Here you will find the list of email addresses that you have marked as safe senders.
To add a new email address click on the "add" button (1).
To remove an email address put a check in the box next to the email address and click "Delete one address" (2).

G. All emails trapped in the spam filter will be deleted after 14 days
If you have any problems or questions please contact VCFA IT Department.